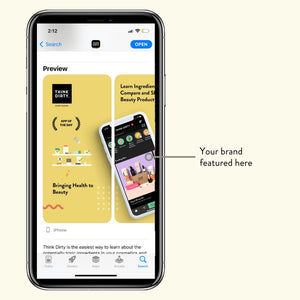 Add On: App Store Feature
Regular price
$5,000.00
$0.00
If you want to take your brand to new heights, look no further. By becoming the first brand seen by users when they download the Think Dirty App, you can significantly increase your brand's visibility and attract a wider audience.
With the option to showcase your image in the app store, you can create a powerful and engaging brand presence that speaks directly to potential customers. This will not only capture their attention but also establish your brand identity and differentiate you from competitors.
You can build your brand's credibility and drive awareness. With our app's focus on transparency and trustworthiness, a strong presence on the platform can lead to higher customer loyalty, better brand recognition, and potentially increased revenue.
In today's competitive market, standing out is more important than ever. So, if you're looking to make a significant impact on your brand's growth, this placement is recommended.
Disclosure: We are a professional review and product rating website and mobile app that receives compensation from the companies whose products we review and rate. We are independently owned and the opinions expressed here are our own interpretation of trusted sources.