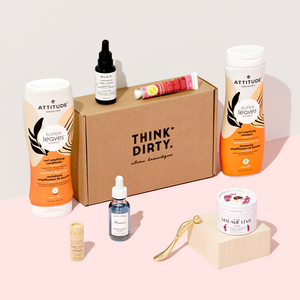 Add On: Contribute to an upcoming Beauty Box (75 full sized items)
Regular price
$0.00
$0.00
We would love to have you in one of our upcoming beauty boxes! Interested? Read more below.

Demographic?  Women age 20-55, who are eager to try clean beauty brands that are recommended/rated by Think Dirty. Our brand has a broad international appeal.

Who buys? Our customers are mostly in the US but in the past, we have received orders from Canada, UK, Denmark, and Puerto Rico! Our promotion to the boxes will reach app users across 38 countries including US, Canada, France, UK, Netherlands, Russia, Hong Kong, Australia, China, Brazil, Peru, South Africa, and UAE across 5 continents.
What's in it? In the box, there are 8-10 items, with our branded merchandise and along with any brochures/coupons. Your brand will be promoted and tagged across all our social media platforms with over 190K followers as we advertise the beauty box.
Pricing: 75 Full Sized Items
Disclosure: We are a professional review and product rating website and mobile app that receives compensation from the companies whose products we review and rate. We are independently owned and the opinions expressed here are our own interpretation of trusted sources.