• clean • cleaning • fresh • fresh-air • smell-good
Ahh! Don't we just love that fresh, clean-air smell?
---
• beauty • cleaning • cleaning-tips • household • think-dirty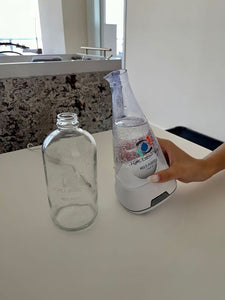 We tried the Force of Nature Clean Multi-Purpose device that uses electricity to turn water, salt, and vinegar into a multi-purpose cleaner! In this article, we will explain exactly how to use this...
---
• clean-beauty • cleaning • skincare • spring • spring-cleaning
We can't wait for the warm weather, but the prospect of spring cleaning our spaces for the new season is far less exciting. We're here to help with that! Trying out new clean products to revamp your old routines can make things a little more interesting. We're all about swapping old products for new, cleaner options that work just as well. We do our best to find non-toxic products that can match...
---
• cleaning • environment • health • spring • spring-cleaning
Spring has sprung… almost! The season where the sun begins to peek through the clouds and being outside without a full-body coat is possible. Spring cleaning can help you pull yourself out of that wintertime rut and get ready for the summer months. This is our room-by-room guide to getting your home in perfect shape without using the toxic, unhealthy products you may be used to. It may surprise...
---
• back-to-school • beauty • cleaning • health • kids
Fall can be a great time, between the changing leaves, fall fashion, and apple picking. Unfortunately, fall also means back to school and a whole lot of germs. A fall cold is almost inevitable but you can lessen the likelihood that you or your kids will get sick with these clean-rated products.
Washing your hands is...